I will not have reliable internet service until June 25. As a result, the daily updates will not be as thorough as usual. I apologize.
---
Miranda state governor Henrique Capriles said yesterday that a total of 156,968 signatures have been validated in favour of a recall referendum against Maduro out of 197,721 needed have been validated over the past two days, putting the opposition within striking distance of the goal before Friday's deadline. Capriles said that on Tuesday 84,524 signatures were validated.
Capriles stopped short of declaring the verification process successful, and stressed how difficult the process has been:
With only 300 [verification] machines at the national level the process has been very slow, but Venezuelans have been overcoming all of the obstacles in order to achieve a peaceful and democratic change. I've seen 80-year-old people line up for five hours to validated [their signatures], and this has to fill us with optimism and strength…
Capriles Meets U.S. Envoy
Capriles also met yesterday with Thomas Shannon, a U.S. envoy sent to Venezuela to help kick-start a dialogue between the opposition and the PSUV. Capriles told Shannon that there has not been "any dialogue process" in Venezuela, in essence dismissing all of Maduro's previous calls for a dialogue as insincere.
Capriles also questioned the neutrality of former Spanish Prime Minister Jose Luis Rodriguez Zapatero, who has traveled to Venezuela in recent weeks in a highly publicized mission to help foster dialogue between the two sides. Capriles said:
I think that former president [sic] Rodriguez Zapatero has to take a close look at how he is going to state his position, because we heard him speak today in generalities, and Venezuelans aren't going to put up with generalities.
MUD to Outline Verification Irregularities
The mayor of the Sucre municipality, Carlos Ocariz, said today that the opposition would formally outline all of its complaints over irregularities with the verification process before the Consejo Nacional Electoral (CNE) today.
The meeting between the two sides comes at the same time as reports out of Carabobo state that National Guard soldiers stopped buses carrying people to signature verification stations with the goal of preventing them from exercising their right. The announcement was made by Ramon Alberto Nunez, and appears to have taken place in at least two different places: Bejuma and Lagunita.
Below, an image showing people crowded around buses which were allegedly stopped by the National Guard in the Lagunita municipality earlier this morning: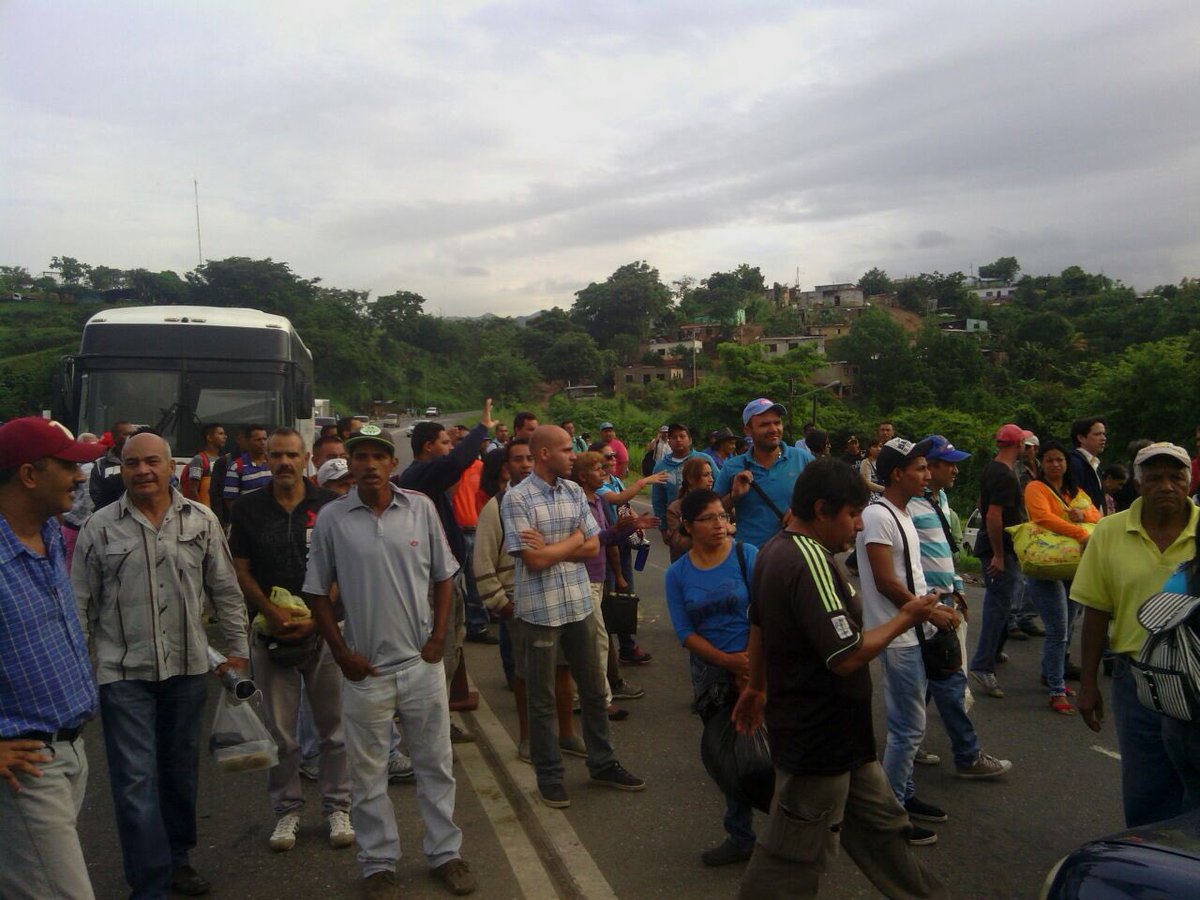 Despite the challenges, Ocariz said that the process has been overwhelmingly peaceful, and that Venezuelans have nevertheless come out in droves.
Ocariz also criticized the CNE for what appears to be a deliberate attempt to bottleneck the verification process in MIranda state:
There are 600,000 electors in Miranda state and only two machines. We can see how this distribution [of machines] is absurd. Despite all of this, the people's response over the last 16 hours ha been massive.
Barreto: Maduro's Exit in "Negotiation"
The former mayor of Caracas and head of the Redes political party Juan Barreto said yesterday that "sectors" within the PSUV are negotiating with Maduro to get him to resign in order to avoid his removal via recall. Barreto said that the reason for the negotiation is the belief within the PSUV that Maduro's removal from office would spell the death of chavismo.
Barreto explained:
It has been recommended to Maduro that he should resign so as to not [risk a recall], because he could lose the recall and bury chavismo. This is why it's better that the recall doesn't haven next year.
Barreto considers it next to impossible for the CNE to simply refuse to hold the recall referendum given the fact that it is a mechanism that is clearly spelled out in the constitution.
---
Questions/Comments? E-mail me: invenezuelablog@gmail.com